Our hearts hurt for Bowen. Instead of being welcomed home by his big sisters with gifts and signs today, it looks like he's going to be welcomed back to moderate care with signs of another infection. We also hurt for Emmy and Claire, we've rarely seen them as excited as they were about welcoming their little brother home today. We are all very disappointed.
The doctors believe that Bowen's sternotomy is infected, and that the best case scenario is we'll be here for another week. Worst case is an infection around his heart, which would keep us here up to six more weeks. We're praying for this infection to clear up so we can go home while trusting that God knows a little more than we do about why we're still here.
Every time I write about suffering on this blog, I think about how much more Bowen has suffered than Sarah or I over the last two months. All of our pain has come from watching his.
If I could take it all away I would, but I can't.
If I could take his place I would, but I can't.
Somedays I feel helpless.
So beyond loving him, I do what I best know how to do. I write, sing, and speak in a way that reflects the value of following Christ in both our victories and losses. I can't speak for Bowen, but I can speak from my heart in hopes that one day he'll read and hear his dad's words, and feel the assurance that all he's endured (and will continue to endure) will not be wasted. I want to leave my son and daughters a legacy of faith, so that whether they experience great loss or great gain in their lifetime, they will not treasure the temporary and hold fast to what is everlasting.
This is a picture of Bowen with the little green alligator that I clung tightly at my chest on the morning of September 14th when I thought we had lost him. These words never meant more to me than the days that Bowen was on life support.
You are mine for a moment
But you are his, forever his
In this life I am holding you
But in his arms you live
These are lyrics from a lullaby that that my friend Jason Ingram and I wrote a few months ago called "I Couldn't Love You More". It's a song that has comforted me in many moments of uncertainty, and has reminded me that God knows and wants what's the best for his children-even more than we do.
This winter we'll be recording an album of songs, including the ones you've heard on this blog, that have risen out of faith and suffering. These are songs that I've been playing for Bowen over the past two months, and I anticipate sending them from our hospital room, and soon from our home, to yours. There is no title or release date for this album yet, we only have the studio time booked. I've mentioned before that it's a little taboo for me to share demos of songs that aren't officially recorded yet, but I'm going to leave you with the song we'll be playing for all three of our kids tonight in Ann Arbor. You might want to set your computer near someone you love and let them hear the words, "I couldn't love you more, but somebody does."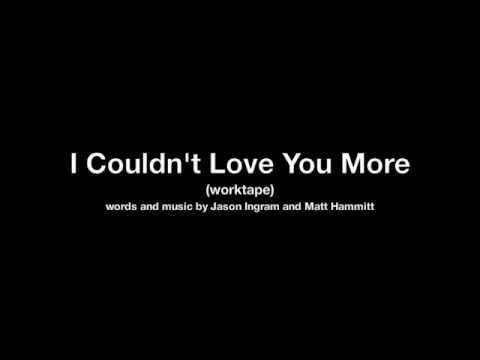 I Couldn't Love You More
In the night, He is with you
At morning light, He is with you
Do not fear, He is with you
When I'm not here, He is with you
I couldn't love you more
I couldn't love you more
Oh, I couldn't love you more
But somebody does
Jesus
Rest your eyes, He is with you
I pray you find that He is with you
When I let go, He is with you
And I can know that He is with you
I couldn't love you more
I couldn't love you more
No, I couldn't love you more
But somebody does
Jesus
You are mine for a moment
But you are His, forever His
In this life I am holding you
But in His arms you live