Bowen was wide-eyed today. We couldn't get him to smile, but he was mostly content.
He reached up quite a bit to touch our faces and to play with his balloon.
Today's big news is that they moved us to "the floor"! They're saying we could go home as early as Monday.
Here's a clip of Bowen playing with his balloon so you can see just how well he's doing.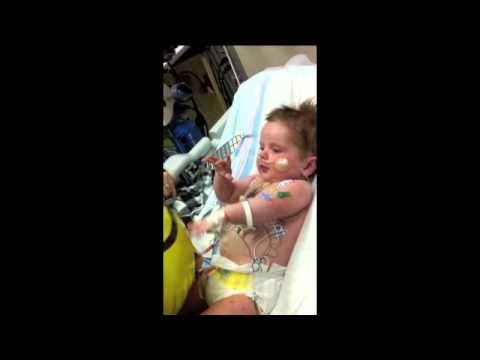 I did an interview with Scott and Kelli from K-Love radio a couple of days ago. You can listen to it by clicking on the picture below.
Digging Deeper
For all that is in the world—the desires of the flesh and the desires of the eyes and pride in possessions—is not from the Father but is from the world.  And the world is passing away along with its desires, but whoever does the will of God abides forever.

1 John 2:16-17 (ESV)
We shared a hospital room with a family who's teenage son has been suffering from a life threatening illness since he was five years-old. My heart went out to this young man because he's been laying in a hospital bed for many months of his life while his friends have been participating in school and social activities. I told his mother that I hope he'll be healthy and driving soon, and then she proceeded to tell me how they had an expensive sports car waiting for him at home.  She made the comment that it will be his most prized possession. I think it's wonderful that she has a car waiting for her boy back home, and I'm not out to judge her for making a comment about it being his "prized possession," but the conversation just stuck with me for a while. It really made me think about what my most prized possession is today.
All of us, even those of us who claim that the Lord is our most prized possession, are naturally inclined (at every moment) to find our happiness and worth in our earthly successes and possessions. This was my prayer today after reading 1 John 2; "Lord, rid me of my pride in any possession but You."
Below is another song from the album that I recently recorded. The Mp3 that I have to stream on the blog isn't high quality (as usual), but I think it's worth sharing anyways. It's called Treasure.